Spread shemale legs!  I want to spread my legs just like this, right in front of your face, and let you do whatever you want to my cock, balls and ass. Would you also run your tongue down my Spread shemale legs, and suck on my pretty feet?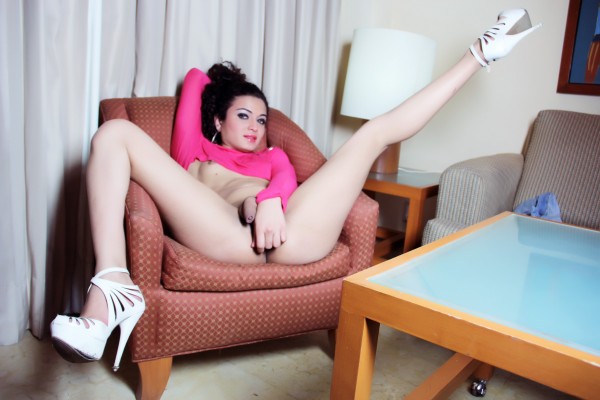 Let me plant an idea in that amazing head of yours. You have been at work all day. Dealing with people and the boss and the person in the office next to you. The drive have has been just as hard with bad traffic. An idiot cuts you off and you yell but no one hears! By the time you walk in the door you are beat. Head down. Your eyes are tired and you just want to get out of your work clothes.
Now, lift your head and look into the living room. You will see me sitting on the chair like this. What is the first thought that crosses your mind? Will you drop your things and walk over to me and take me. Ravage my tranny hole to release your frustrations?
Maybe you will sit down opposite of me and pull your cock out and start stroking it. Letting me watch you. While watching my cock grow hard and my love hole twitch needing you indside me!
Does this entice you? Click the image right now to see more of this sex story in my members area. Also enjoy the movie! 🙂
Otherwise you can surf more photo samples of me here on this site showing off my hard tranny body!